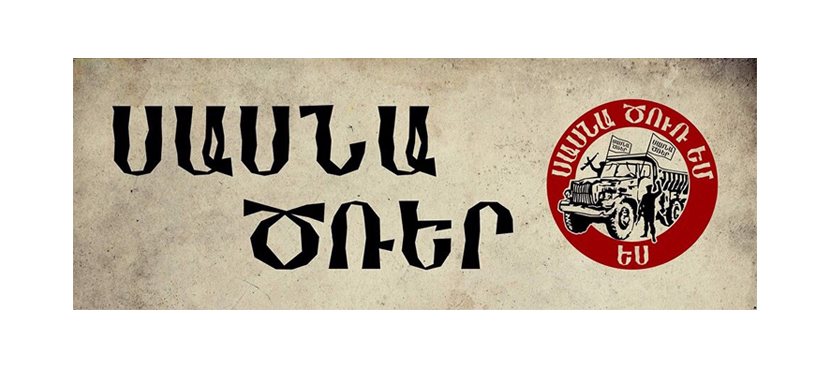 The Armenian Renaissance Diaspora Movement organizes protests and solidarity demonstrations in different cities around the world on September 17, 2016. Many diaspora communities and organizations have joined the initiative.
The Armenian Renaissance reiterates its firm support for and the participation in the liberation struggle started by the Daredevils of Sassoon (Sasna Tsrer).
Our demands are as follows:
1. Immediately release all illegally detained and political prisoners in the Republic of Armenia, stop the brutal persecution of their families and supporters.
2. Artsakh and the liberated territories are an integral part of the Armenian people and Armenia. Stop the anti-national processes surrounding Artsakh's status, both external negotiation and internal campaigning. Take steps towards the rightful unification of Artsakh and the liberated territories with Armenia.
3. We demand the resignation of Serzh Sargsyan and his government. We urge the activists yet in freedom and struggling to remove the regime, to embark on parallel efforts of forming a temporary transitional government, organizing legitimate elections and establishing rule of law in the Republic of Armenia.
4. Immediately stop the foreign policy of turning the Republic of Armenia into a colony of a foreign power and destroying its independence.
We pledge to give our full support for the realization of these urgent objectives. In support of the Daredevils of Sassoon (Sasna Tsrer) we are planning solidarity demonstrations in various cities around the world on September 17. We have the following 11 cities to date:
Los Angeles, California
New York, New York
Boston, Massachusetts
Boise, Idaho
Paris, France
Lyon, France
Cologne, Germany
Barcelona, Spain
Florence, Italy
Moscow, Russia
Saint-Nicolas, Belgium
We urge other cities with Armenian communities to join and support the Daredevils of Sassoon (Sasna Tsrer) movement. For more information and coordinating solidarity demonstrations in your city contact us here http://www.armenianrenaissance.org/contact-us/:
Armenian Renaissance Diaspora Movement
Note: Armenian Renaissance is not affiliated in any way with the political party in Armenia carrying the same name.